CBF x Compare the Market: Technical Assessments & Interviews [In Person]
September 28 @ 6:00 pm

-

8:00 pm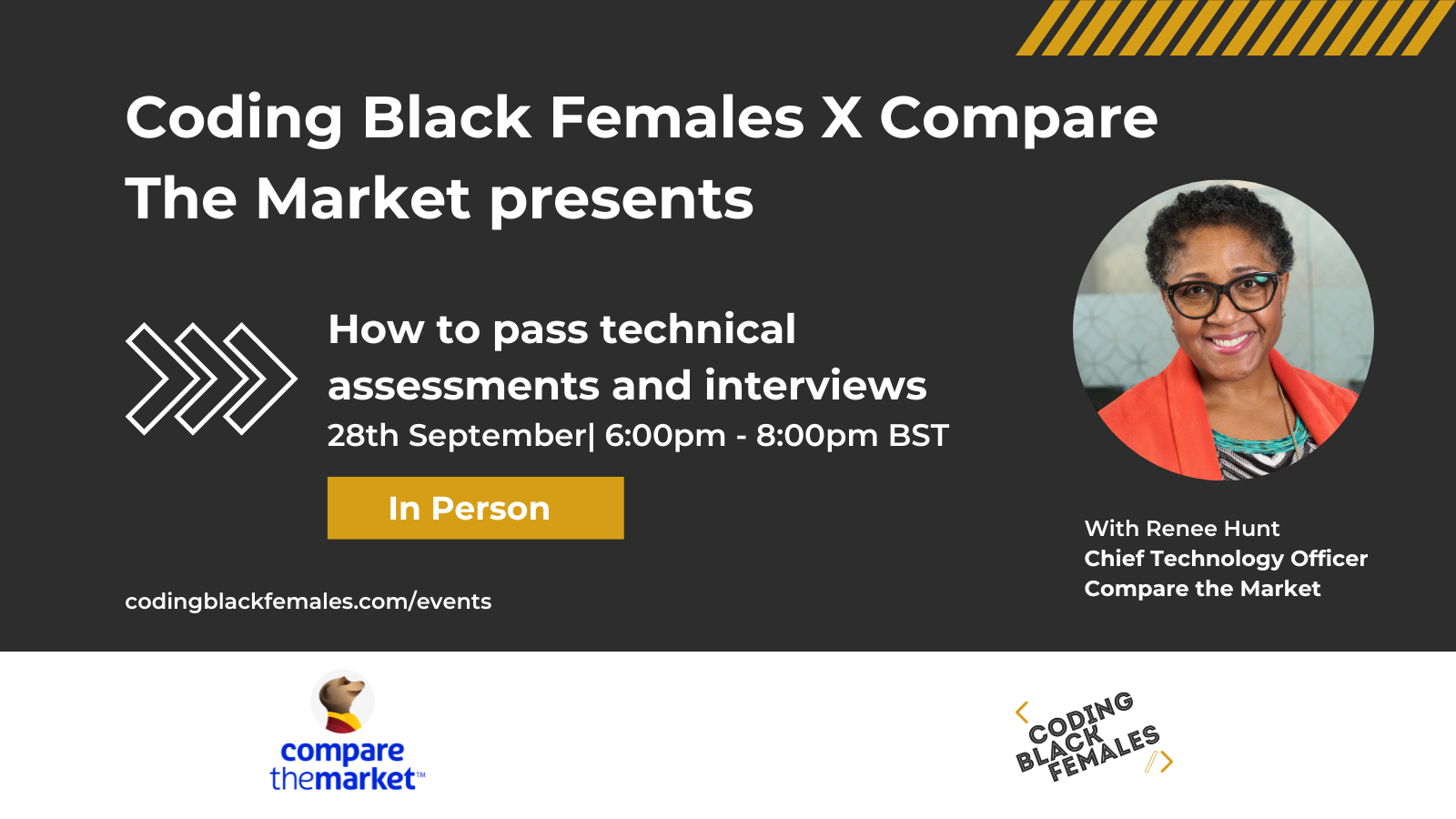 Thinking of taking your first step into Tech? Join us and our partners, Compare the Market on Wednesday 28th September, 6-8pm for our next in-person event. There will be workshops on how to pass technical interviews and assessments and a talk on Cloud DevOps which will be led by Renee Hunt who is the Chief Technology Officer at Compare the Market, the leading Price Comparison FinTech in Europe.
A little bit about Renee Hunt:
Renee has been part of the tech industry for over 30 years and has built her career delivering high-quality software engineering in commercial organisations. Renee earned a Bachelor's degree from Penn State University, she holds an MBA from the University of Texas at Austin, and is a veteran of the US Army Signal Corps.
In her career, she has been fortunate enough to work with amazing organisations like: Ford Motor Company, Vodafone, Deloitte, NICE, Oxford University, Sky, and now ComparetheMarket (the one with the Meerkats!).
She has a passion for building and leading high-performance teams. Renee is an excellent motivator, coach, and mentor, who has a strong track record of developing leaders.
Renee is now focused on FinTech for Good with an amazing team of engineers, product managers, and other business partners at Compare the Market. Together they will take the brand that everyone loves and make financial decision-making a breeze for everyone.
Renee has many interests her favourites are cooking, sport, sci-fi, fashion, Women-in-STEM, art, music, and opera, taking her passion a step further by vice chairing for OperaNorth, the largest regional opera company in the UK. Renee has been a supporter of West Ham United Football Club for over 20 years. She loves to travel and all things orange.
Renee now lives with her husband Michael in London.
Related Events